Leggimi. Galleria DialogArt, Vienna.
Due artisti, due storie diverse, due paesi diversi, Brasile e Italia, si incontrano grazie al comune modo di leggere la realtà attraverso simboli arcaici e un primitivismo essenziale. Mauro Mori e Luiz Martins si incontrano nel 2014, si riconoscono immediatamente e decidono di trascorrere del tempo insieme per sviluppare il progetto Leggimi. In Leggimi, l'uno crea la propria interpretazione del lavoro dell'altro, attraverso il proprio approccio e le diverse tecniche.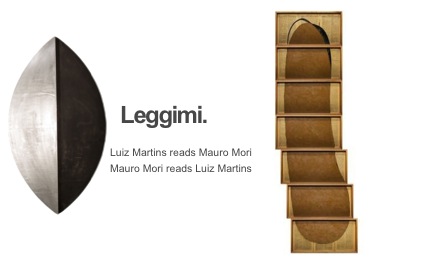 Two artists, two different stories, two different countries, Brasil and Italy, meet thanks to a common way of reading their own reality through archaic symbols and essential primitivism. Mauro Mori and Luiz Martins meets  in 2014. They immediately recognize each other and decide to spend sometime together to develop the project Leggimi. In Leggimi, each of them creates his own interpretation of the other one's work, through his own approach and technics.
Leggimi will preview in 2015 at the Gallery Dialogart in Wien.